THE SAFEST OUTDOOR BASKETBALL AND TENNIS FLOORING
Sport Court® is dedicated to improving the lives of people both young and old and promoting active lifestyles. That's why we've designed a professional-quality court surface that delivers years of safe play and low maintenance costs. Your annual maintenance costs will be dramatically reduced, while your community enjoys the court. Safety is our primary objective in designing our athletic surfaces. Play harder, play longer, with less recovery time necessary. Our 15 year warranty tells you we stand behind our product! We have a solution for virtually every court outdoors: Our tennis surface not only provides consistent ball response, but provides amazing cushion for the player. Basketball players will love the upgrade with our surface, not only will it bring new life to your basketball courts, but our safety and traction are second to none. Call today for your free site analysis.
PowerGame+
SportGame
SportBase
PowerGame+
PowerGame+'s unmatched safety and playability make it the perfect court for championship competitions around the world and for your backyard athletes at home. The surface, now safer than ever with improved shock absorption, reduced risk of impact injury and the best combination of abrasion protection and dry traction. The patented Double-Tier shock absorbing grid and Lateral Forgiveness™ reduce joint strain and fatigue to help your family safely play hour after hour.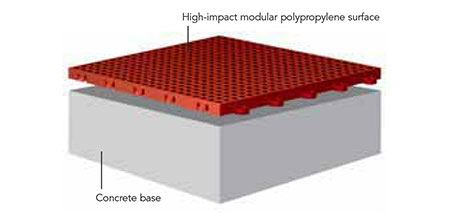 Sport Game
Sport Game™ can give you the multi-sport play you want with our advanced athletic technology courts. Our patent pending design gives you excellent traction and low abrasion safe play — don't worry, these features don't sacrifice ball bounce and response.
Sport Base
Sport Base™ is meant to be used under a game court system to help athletes reduce joint strain and stop injuries. This 100% recycled material proves that it's what's underneath that counts.
Are you looking for a backyard court or home gym in Minnesota or Western Wisconsin? Click the link below to learn more!
C&C Courts carry a full lineup of institutional grade basketball hoops for your court needs. Sport Court, ® Goalsetter, ® & Spalding ® are all available! Invest in a great hoop for your court, they need to take the abuse and not become a liability and maintenance headache! Purchase directly from us and we can install for you or provide technical assistance for your staff. Call today to tell us about your basketball court and we will gladly recommend the right basketball hoop for your needs!
The games do not stop when the sun goes down! Improve the use and safety of your courts with our light systems. Affordable, easy to install and have a great warranty. From Metal Halides to LED lights we have the service and selection you are looking for. From Tennis, Pickleball, Basketball and more, we have the lighting for it.